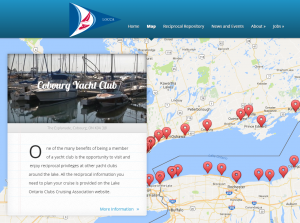 The Lake Ontario Club Cruising Association came to us asking for a new website.  Their existing site had served its purpose for years but it was tired, dated and hard to maintain.
We worked together to develop a system that would allow individual clubs to login and maintain their own listing information – this proved to be a huge administrative burden relief.
Clubs can now log in and modify all information that appears on their profile page.  They can also upload images and modify their location using a google map.  They are able to drag and drop a pin on to an exact location which is handy as many clubs aren't located where their mailing address says they are.  As an added benefit, if they have an upcoming event, they are able to post it to the 'Club News' section.
Now, memberships are up, information is more accurate, clubs are able to manage their own details and there is less administrative stress on the organization.
Check out the new LOCCA Website here: http://locca.org/
Interested in taking your web presence to the next level? Get in touch at owenbird@gmail.com