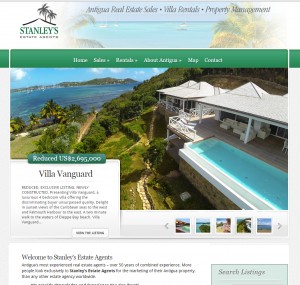 Stanley's Estates Agents are Antigua's most experienced real estate agents – over 50 years of combined experience.
On this project, I teamed up with Robby at Hi-Octane Creative to deliver a crisp, clean design with a focus on readability and searchability.
As real estate is a fast moving business, in addition to presenting information clearly, it was critical that the site was easy for the agents to use.  We used WordPress with a number of custom built functions as well as off-the-shelf functionality to bring the project to life.
If you're planning on heading to Antigua, get in touch with Stanley's Estates to find a great rental or property to purchase.  If you're looking to have your website re-developed – whether you live in Kingston, Ontario or not – contact obird