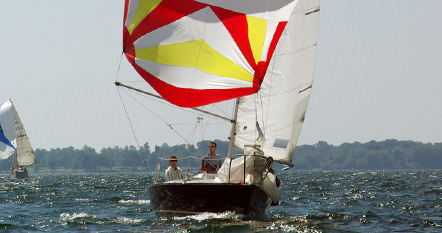 We didn't see a cloud from when we delivered the boat on Thursday until the sun set on Sunday night. The wind was up for all three days of Racing. We didn't see anything less than 10 knots, 15 was the norm and gusts of 20+ were common. Patches was a great addition to the crew and made a few of our best calls. Carissa was fully involved from packing the sandwiches to packing the chute. We were feeling a little flat on Friday evening so Carissa brewed up a pot of coffee, threw it on ice, tossed in a healthy splash of baileys and got the night rolling. Blues Fest was going on so we hit the town and saw a great band!
We lost Timmer to a wedding on the weekend but not before sending him up the mast to sort the spin halyard on Friday morning.  Byron's fancy-footwork on the bow negotiated us through some pretty harry gybes when the wind was up.  All in all, we had a great crew putting a solid effort.
On Friday we ripped one chute and shredded another. We picked up two rolls of tape and got the best of the two chutes up for every run on Saturday. Luckily we had gotten two rolls because it ripped again on Saturday and more tape was required to get us going Sunday morning. The chute survived the gusts on Sunday but we ripped the top of the genoa off. No at-fault issues, just A LOT of wind.
Sails are at the sail loft today being assessed and repaired – we're ready to do it all again on Thursday. We're tied for 2nd in local racing so we're pumped to keep the pressure on the first place boat and battle it out with the other J/24 (currently tied with us for 2nd.)
I want to give a special shout-out to Bill Visser – and all of the members of the RC – for their great Committee Boat work throughout the event.  The wind was all over the place, there were several fleets,  various courses and lots of waves;  through it all, Bill and his crew set consistently good lines and made good calls.  I think its important that we all remember to say thanks to the folks who hammer it out in an anchored boat while we sail around the cans.